5PM
Omg! It's 5pm! I haven't written a word yet. You know what, let me just watch the 'Modern Family' finale.
5:20PM
It's still early. Why don't I watch an episode of 'The Office' for old times' sake?
6:59PM
OMG! I just wasted two hours zoned out watching shows! MUSTSTARTWRITINGNOW!
7:20PM
Okay, starting with 8,948 words. Let's go! I can write 5,000 words, yes I can!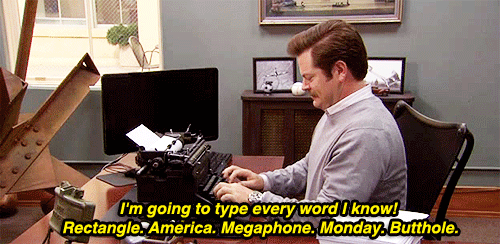 Type.
Type.
Type.
Type.
Type.
8:40PM
I think that's enough. My head hurts. Let me see how much I've written. It feels like a lot.
Day 1 Results:
1,666 words
How I feel about the 1,666 words: Not great. But hey, I managed to get some words down. Combo of lack of sleep and hectic work day wasn't the best for a productive writing schedule but I will try to make up the difference tomorrow.